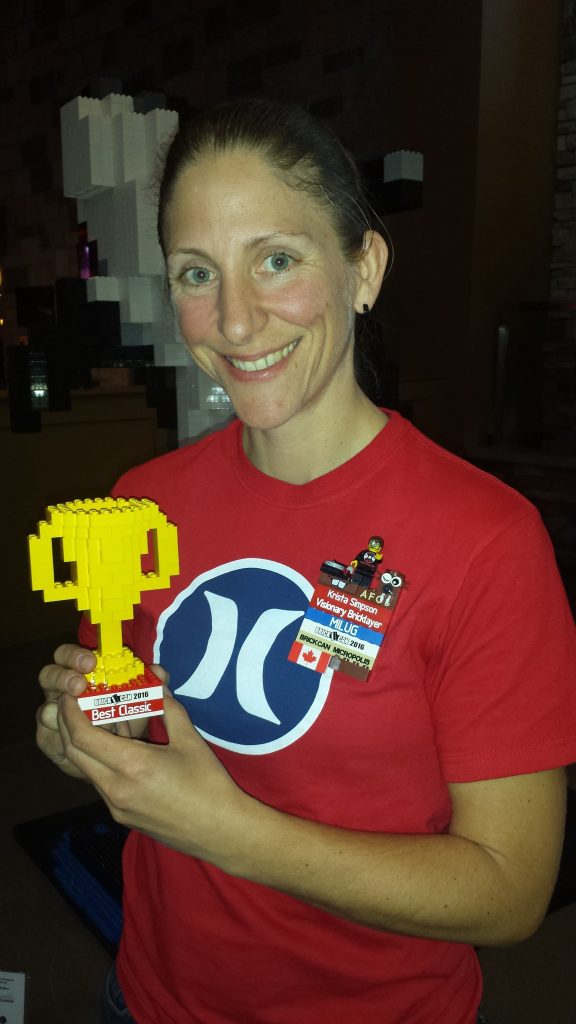 Krista Simpson (she/her)
MILUG Co-founder, LAN Ambassador, Administration Coordinator, Social Media Team – Facebook
Krista is a relatively new AFOL (adult fan of LEGO®). Although she played with her brother's LEGO® as a kid, she never had her own LEGO® until she bought a few sets to help manage the stress of attending University. She became an AFOL in 2016 when her partner, Laura, gifted her tickets to the first BrickCan LEGO® Convention in 2016. It was at BrickCan that she learned about LUGs (LEGO® Users Groups) and founded MILUG with Laura and Michael.
Since then Krista has jumped head first into LEGO® – building sets and MOCs (my own creations), and writing about LEGO®. Her favorite themes are Ideas and Icons (18+), and her favourite MOCs to build are large scale vehicles. She is particularly interested in the application of LEGO® in mindfulness to help manage mental health and mental illness. She is a board member with Brick Alliance, a global community advocating for diversity, equity and inclusion in the LEGO® ecosystem, and a past contributor with True North Bricks, a Canadian RLFM (Recognized LEGO® Fan Media). She is also a member of Women's Brick Initiative, Gayfols, and LEGO® Saved My Life. Krista is grateful to live, work and play on the unceded, ancestral, and traditional territories of the Snuneymuxw, Snaw Naw As, and Stz'uminus First Nations.
To see some of Krista's MOCs, check out her Flickr account: Krista Simpson|Flickr
Laura Hawley (she/her)
MILUG Co-founder, Treasurer/Secretary
Laura rediscovered LEGO® in 2016 while hunting for a birthday present for her nephew. Things snowballed from there, from attending her first LEGO® Convention, to co-founding MILUG, to building and collecting ever since. Since forming MILUG Laura has enjoyed meeting and learning a variety of building techniques from other club members through the MILUG monthly meet-ups, collaborative displays and various community events. Laura's LEGO® building tends to take a backseat in the summer months when more time is spent outdoors gardening, mountain biking, hiking and kayaking.
Michael Thomas
MILUG Co-founder, Website Administrator
–Coming soon–
Mike Sinclair
Data Management Coordinator
Mike has been an admirer of LEGO® since he was young, but didn't really become an AFOL (adult fan of LEGO®) until attending BrickCon with his family back in 2012. It was at that time that he realised the true potential of the brick! While attending the very first BrickCan a few years later, he learned of a newly formed group of AFOLs (MILUG) based out of Nanaimo and joined immediately.
Since joining MILUG, Mike has enjoyed building in many different styles and for many different events. He finds that building (and let's face it – lots and lots of sorting) is a great way to relax and unwind from the daily grind. Mike feels that MILUG has been a great way to meet other AFOLs in the community and has made him a much better builder.
You can check out some of Mike's builds on his Flickr account: Mike Sinclair | Flickr
Scott Hutchinson
Social Media Team – Instagram & Facebook
–Coming soon–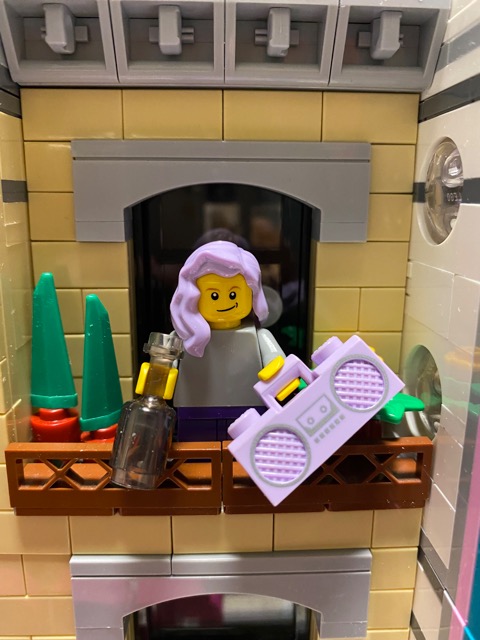 Janice Hofman
Social Media Team – Instagram / Social Committee
Janice recently came out of her dark-ages during Covid after a friend sent her an image of the LEGO® Ideas Typewriter set, which she purchased on release day, and has been hooked again since. Her favourite sets include Ideas and Modulars, and she loves the storytelling aspect of LEGO®. She would like to learn more about stop motion animation as well as building better MOCs (My Own Creations). She joined MILUG in the fall of 2022, and enjoys the challenges and sharing of ideas with other AFOLs (adult fans of LEGO®).
Check out some of Janice's sets and builds on her Instagram: https://www.instagram.com/thingsjanicelego/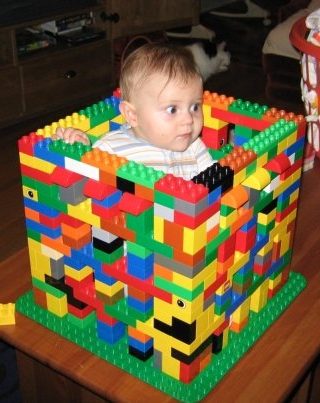 Wendy Wise
Social Media Team – Facebook / Social Committee
I started building with LEGO® in the early 80's when my younger brother got his first set as a Christmas present. He was more of a build once and move on kind of person, and I was always taking it apart and coming up with something new. My parents occasionally gave me a set after that, like the LEGO® kitchen set (269). But mostly I had to take my brother's LEGO®. Buildings were my focus and at the age of ten I was building airports, farms, churches and houses – so many houses. I drifted away from LEGO® as I got older but then I got back into it when LEGO® came out with the Harry Potter sets.
Buildings are still my favourite sets to collect and when the modular buildings started I had to get one, and another and another. Since then I've gotten my son into LEGO® as well, and he's been helping me get back into the creativity I had when I was young. It's given us something to do together and to connect over. I started him on Duplo, and now he's building things I could never imagine. I got my mother into LEGO® as well. It's helped with her Arthritis as well as keeping her mind challenged. It just shows that you're never too old to get started with LEGO®!
Sara Doyle
Social Committee
–Coming soon–
Ley Ward
Social Committee
–Coming soon–