3rd Annual Mid Island Brick Fest, Oct 29, 2022!
MILUG (Mid Island LEGO® Users Group) is hosting the 3rd Annual Mid Island Brick Fest in partnership with the Wellington Library on October 29th. This is a FREE LEGO®-filled event for kids of all ages (yes, adults too!). Check out our blogs for photos of our 1st Annual Mid Island Brick Fest and 2nd Annual Mid Island Brick Fest. More details below!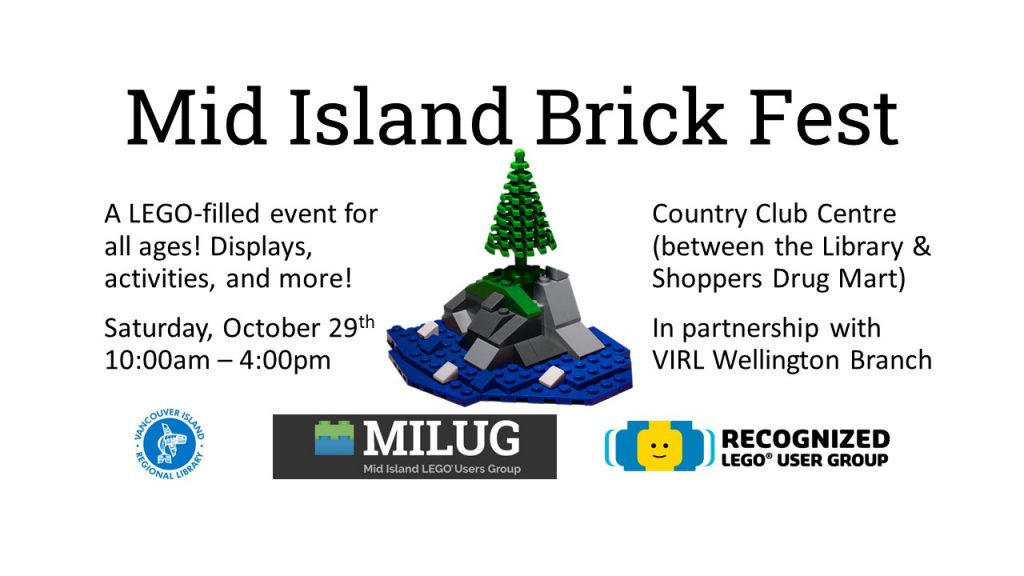 Details
WHAT: Mid Island Brick Fest – a LEGO®-filled event!
WHEN: Saturday October 29, 2022 10:00am – 4:00pm
WHERE: Country Club Centre (between the Wellington Library and Shoppers Drug Mart) 
WHO: Kids of all ages (yes, adults too!)
COST: Free!
Activities
PUBLIC LEGO EXHIBITION – MILUG builders will be displaying various MOCs (My Own Creations) and sets from various LEGO® themes.
NEW THIS YEAR: we are inviting TFOLs (Teen Fans of LEGO®) to display their creations along side our members. If you are a teen and are interested in displaying with us, please contact us on Facebook or at midislandlug@gmail.com
STRANGER THINGS/SPOOKY COLLABORATIVE DISPLAY – MILUG members built minifigure habitats related to Stranger Things or spooky things in general. The habitats connect horizontally and vertically to form a giant wall.
LITERATURE BUILDS – MILUG partnered with the Wellington Library to bring your favourite children's books to life in LEGO® bricks.
LEGO® PHOTOGRAPHY – MILUG members took their favourite minifigures out into the real world for a photoshoot in the spirit of the recently released LEGO® photography book, In Focus.
LEGO® STOP MOTION – Watch some LEGO® stop motion videos created by MILUG members and friends of MILUG.
WACKY RACE RAMP and PLAYBRICK STATION – We will have our playbrick available for building creations to race down our wacky race ramp!
LEGO® COLOURING STATION – Take a break from building and colour a LEGO®-related colouring sheet.
LEGO® BOOKS AND FUN FACTS – The Wellington Library will have a display of LEGO® books and fun LEGO® facts. Come test your LEGO® knowledge.
BUILD CONTEST – This is being run by the Wellington Library. Details on the theme will be released soon! Build a LEGO® creation related to the theme at home and bring your creation to the event and you could win a prize!
Please follow us on Facebook, Instagram, or milug.ca for updates